</P>



Welcome to
Rodford Edmiston's Page
An eclectic assortment of art, fiction, science and stuff too weird to easily categorize. Be warned: several of these pages contain material which will be offensive to some people, and some which is definitely intended for adults only. However, there is much here which is suitable for all ages, and some for which those responsible for others should make their own decisions.
Masks 10 Published!
Doppler Press has brought out my tenth Masks story as a Kindle e-book through Amazon, as of November 20, 2019!
Masks 10: Deepest Danger Something is stirring under the surface of the Atlantic. Something hungry.




Doppler Press has brought out my sixth Masks story as a Kindle e-book through Amazon, as of September 30, 2018!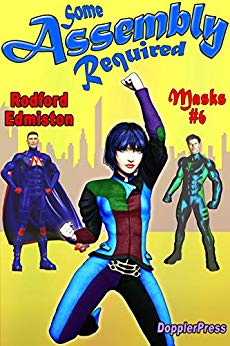 Masks 6: Some Assembly Required While life goes on for Template and her friends and allies, a new generation is getting its own start.
Doppler Press has brought out an earlier Masks story as a Kindle e-book through Amazon! My Summer Vaction Energia gets a taste of teen hero work.
You can also still buy the previous Masks stories as a set at the link below!
Read about the history of the Masks universe at the link below!

A partial timeline of the Masks Universe



My convention photos.
The most recent update was my photos of MarCon from May, 2019, held north of Columbus, Ohio:

Here are the 2019 MarCon images:


Here are the 2019 ConGlomeration images:


The 2018 San Jose WorldCon images were posted on August 29, 2018:


The 2018 ConGlomeration images were posted on April 3, 2018:


My Flickr convention photo albums. Click the link below to browse.
Check out the the Bugout and Get Home Bag Excel file: Bugout and Get Home Bags

Here There Be Centaurs Links to the 'TaurRing, and to my centaur stories and artwork. Nerdhaven Picked on because you're smarter than "they" are and not interested in "normal" things? Try the ideas presented here. No guarantees, but some suggestions which should help (for both nerds and their families and friends) and lots of commiseration. Some of my fiction (Note: This section contains some mildly risqué material.) Wolf Penned In William Peabody is an adult, now, with adult responsibilities. Unfortunately, some of those clash with his nature as a Changeling Wolf Pooka. (Set in White Wolf's Changeling: The Dreaming role-playing game universe. Sexual situations and violence.)
Masks XVIII Posted November 14, 2017. Masks XVIII



Some of my artwork and some by other people (Note that some of the pieces are risqué.) This material is Copyrighted; please don't repost without permission of both myself and the artist. I made sure to get permission; you should, too.
Transformations Stories, artwork and links (including to the TF-Ring) involving physical transformations. Much of this material describes violent activities or sexual situations and is not intended for children, though the Jackie and Jill stories (in the Fox Kid section) may be enjoyed by all ages. Parents, if you are in doubt about a particular story, please check it for yourselves. Who knows; you might find something you like. :-) New story: Catamount All the completed Lisa Dawnwind stories posted May 16, 2010. Just scroll down a bit after clicking the link to find the list.
Furries Anthropomorphic artwork and stories, with links. (Note that much of this material is not intended for children.)
My writing page.

Role-Playing Games Role-Playing Game Materials, for my own Interworld game and commercial games. The most recent work is a module I created for White Wolf's Aberrant RPG: Sin City. Updated February 16, 2005. (This is a pun on Cincinnati, with no connection to the comics and movies.)

The Joy of High Tech! Articles on interesting facets of technology. The column Technological Detours was posted on July 3, 2018: One Size Does Not Fit All


This page is *always* under construction.


Contact me at:

Stickmaker or at: Rodford Edmiston Smith (My emergency backup personali... - uh - address.)



Does your ISP lose data, from your Web page overnight?

If you insist they back it up, do they format it in spite?

Can you cache it on your hard drive? Can you defrag left and right?

Does your ISP lose data, from your Web page overnight?


(With apologies to Lonnie Donegan.)